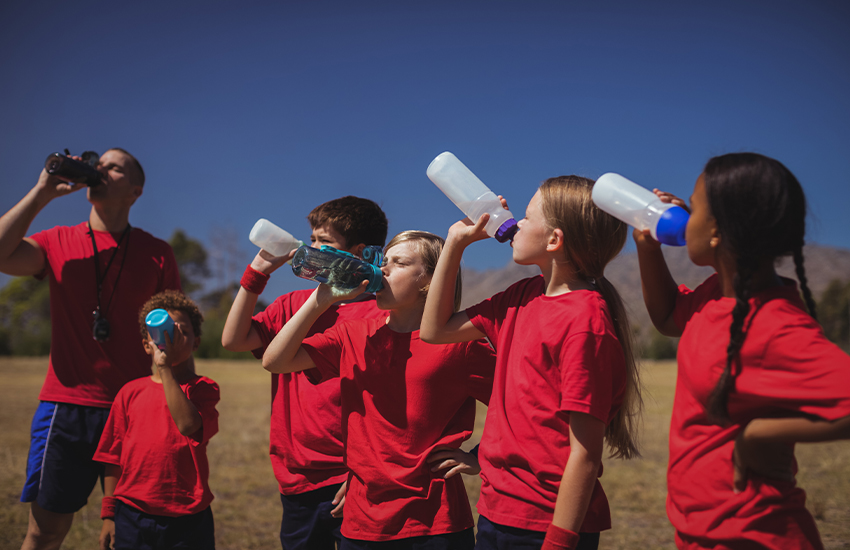 It's easy to have a little too much fun in the sun and neglect your water intake. But staying hydrated is incredibly important, especially during the hot summer months. And if it's easy for adults to neglect their hydration, imagine how easy it is for kids! Read more about how to stay hydrated so your child can play safely while away at summer camp. 
How to Stay Hydrated at Summer Camp
Drink Water
This is one is the most obvious way to stay hydrated. Pack a reusable water bottle for your child to re-fill throughout summer camp and encourage them to drink water before, during, and after activities.
Avoid Sugar and Caffeine
Our next suggestion on how to stay hydrated this summer is to avoid drinks with high levels of sugar and caffeine. Now, this isn't to say that all drinks with these ingredients need to be eliminated from your child's diet, but your child needs to learn to be reasonable. For example, sodas and energy drinks should be limited to one a day. 
Cool Off
Your child will be active at summer camp so it's important to teach them that there's nothing wrong with taking a break. Even if they are hydrated, running around for too long in the heat can lead to overheating or heat exhaustion. Remaining hydrated is a great way to fend off heat-related illnesses, but taking a timeout certainly helps, too.
Eat Food Made Up Of Water
Another way to stay hydrated in the summer heat is by eating food with high water content as a substitute for those salty snacks. High water content foods include cucumbers, tomatoes, celery, radishes, peppers, watermelon, spinach, broccoli, strawberries, and more. No matter what, there are options for your child whether they are looking for something sweet or something savory.