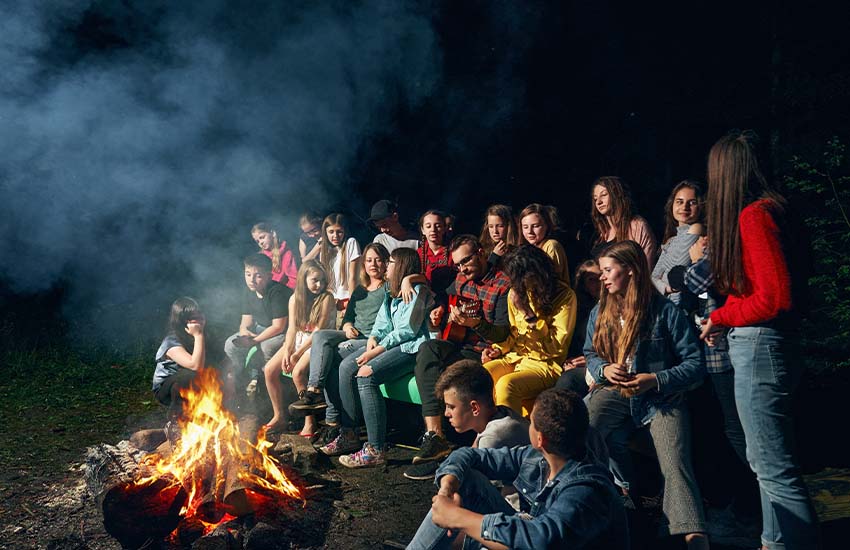 Winter has come and gone, spring is almost here and, before we know it, it'll be time for beach days, ice cream trucks, and (our personal favorite) summer camp! While many parents may be twiddling their thumbs trying to decide what to do with their children all summer long, we encourage you to consider sending them to any of these best summer camps in the USA.
These Are the Best Summer Camps in the USA
1. Camp Matoaka
Smithfield, Maine
Starting off the list of the best summer camps in the USA is one that allows your daughter to experience sisterhood – potentially for the first time. Camp Matoaka is a private, female-only summer camp in Smithfield, Maine covering over 150 acres of grass fields and woodlands. With programs that allow campers to enjoy a wide array of sports and fine arts, your daughter will flourish at Camp Matoaka.
2. Camp Chippewa
Cass Lake, Minnesota
For your son(s), Camp Chippewa is one of the best summer camps in the USA. The all-boys camp initially opened in 1935 and has remained dedicated to its mission of developing character through adventure. The camp's setting on the shores of two lakes in beautiful Cass Lake, Minnesota makes for the perfect backdrop to several watersports. Your son can enjoy everything from sailing and water skiing to on-land activities like archery, climbing, and riflery.
3. Surprise Lake Camp
Cold Spring, New York
As one of the oldest Jewish summer camps in the U.S. with some incredibly famous alumni (Neil Diamond, Larry King, Jerry Stiller), it's no wonder Surprise Lake Camp is so highly regarded. With a wide array of activities offered, Surprise Lake Camp allows its campers to tap into their full potential. If you're considering Suprise Lake, they do have a virtual open house to best accommodate your busy schedule. 
4. Red Arrow Camp
Woodruff, Wisconsin
Red Arrow Camp in Woodruff, Wisconsin offers a one-of-a-kind, seven-week program for boys ages 8-16. And while seven weeks may seem like a lengthy amount of time for your son to be away from home, it allows for opportunities that two-week camps simply cannot achieve. Through a combination of team-building activities, sports, and more, campers leave Red Arrow Camp more confident and more prepared for the next season of life.
5. Camp Kamaji
Hubbard County, Minnesota
Camp Kamaji is all about breaking the ice and helping your child learn how to be their authentic self. The sleepaway camp is for girls ages 7-16 and occupies a stunning lakeside location in Northern Minnesota. Like many of the best summer camps in the USA, Camp Kamaji offers several different activities for campers. But what truly sets the camp apart is its safe environment where girls can be goofy, try new things, and make lifelong friendships.
6. Camp Menominee
Oneida County, Wisconsin
One of the best summer camps in the USA is another all-boys camp that allows you to choose between 4-8 week programs. Camp Menominee is dedicated to helping its campers build relationships, embrace diversity, and leave camp with both physical and emotional growth. With almost a century of experience as one of the nation's top camps, Camp Menominee boasts world-class staff committed to providing boys an incredible summer.
7. Camp Kawaga
Minocqua, Wisconsin
Camp Kawaga is one of the most beautiful summer camps for boys in the U.S. It's surrounded on three sides by water and features some of the best facilities that the camp continues to invest in. No matter what your son is interested in, Camp Kawaga has more than 100 activities, both sport and non-sport related, for your child to explore. The camp even offers a father-son weekend for dads and kids to experience camp together.
8. Camp Birch Trail
Washburn County, Wisconsin
From watersports to gymnastics, your daughter will always find a way to stay active at Camp Birch Trail. Located in northwest Wisconsin, Camp Birch Trail is a traditional, all-girls summer camp with four and eight-week programs. They pride themselves on a "no mean girls" policy. This ensures all campers can learn how to conduct themselves in a respectful manner.
9. Camp Dudley / Camp Kiniya
Colchester, Vermont
Camp Dudley / Kiniya offers two separate camps for boys and girls. Camp Dudley, for boys ages 10-14, is dedicated to facilitating the exploration of the arts, branching into athletics, and growing spiritually. They offer two, 3 ½ week sessions with balanced daily schedules including activities, chores, and more.
Camp Kiniya, on the other hand, was founded in 1919 by Helen Van Buren. It accommodates girls ages 10-15 and places an emphasis on friendships and creating connections with girls from all parts of the globe.
10. Lake of the Woods Camp for Girls / Greenwoods Camp for Boys
Decatur, Michigan
Lake of the Woods Camp for Girls is a boundary-pushing camp in Decatur, Michigan where girls are encouraged to explore their strengths. And with more than 50 land and water activities to choose from, girls can design their camp schedules around their own interests.
Similar to Lake of the Woods Camp for Girls, Greenwood Camps for Boys also allows campers to create their own activity schedule. And unlike many other all-boys camps, Greenwood isn't just a sports camp. The camp offers a wide selection of programs including performing arts, journalism, fashion design, and more.
Ready to send your child to one of the best summer camps in the USA? Count on Ship Camps to send their luggage and trunks to camp safely and on-time. Learn more today.